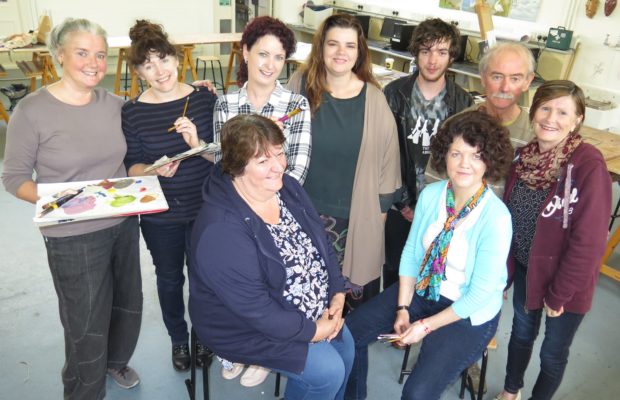 Applications are Open for VTOS September 2017 Courses – Pictured is the VTOS Arts Crafts and Design class at the Further Education & Training Centre
VTOS Limerick – Vocational Training Opportunities Scheme
Applications are Open for VTOS September 2017 Courses
By I Love Limerick Correspondent Jordan Mac Cormaic
Applications are currently open for the September course of the VTOS programme located in the Further Education & Training Centre, Kilmallock Road.
The Vocational Training Opportunities Scheme is designed to help long-term unemployed return to full-time education without losing their social welfare benefits.
VTOS will help participants make the transition back into paid employment or back to further education and eventually leading to paid employment. Participants will make new friends; acquire valuable education qualifications in an adult friendly environment.
Limerick and Clare ETB offers a range of courses from basic to more advanced levels and they particularly welcome people who may not have had the opportunity to progress through secondary school.
VTOS English student Ksenija Fjodorova said: "My favourite thing about VTOS is they offer amazing childcare facilities for me and my children."
The Department for Children and Youth Affairs offers support for childcare for VTOS students. Subvention is given for each full time, part time and half time childcare place per week for 43 weeks per annum. Once offered a place on the scheme you will be given details of crèches which operate this scheme.
VTOS participants retain their social welfare benefits. Students in receipt of a jobseekers payment come off the unemployment register and do not have to sign on again while on the scheme, payments are made by the ETB's to these learners while on the scheme.
Art Craft and Design student Damon Frawley said: "I have just finished one year of art craft and design in VTOS and through doing so I have secured my place in Limerick School of Art and Design."
Ex student of Office Administration and current Medical Administrator at Barrington's Hospital Maria Wozniak said: "The best thing about VTOS is that there is no fees and free parking provided by the campus."
There is no charge for these VTOS courses, books, materials are provided free of charge and examination fees are paid for. Additionally, a travel allowance is given to participants who have to travel more than 3 miles to the centre and a nominal lunch allowance is paid to all participants.
So if you have been out of education for a while and are looking for a way back in, find out if you're eligible for VTOS and apply by clicking here.
To visit the official VTOS Limerick website click here