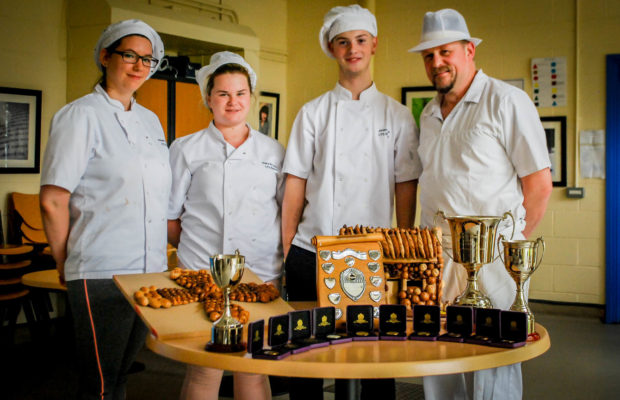 Limerick Youth Service Young Bakers Roxanna Szabo, Stacey McCarthy & Jordan Walsh, trainees at LYS's Community Training Centre with instructor Paul O'Brien displaying their trophy haul.
Limerick  Youth Service young bakers took home eleven medals including five first places at the Alliance of Bakery Students & Trainees (ABST) Annual Conference held at Alton Towers, England recently.
The young people, who are trainees with Limerick Youth Service's (LYS) Bakery Project, joined their peers from across the globe at what is one of the major international events in the baking industry.
Trainee Albert Dowie won first prize in the Wright's Trophy in the Dead Dough live competition with Jordan Walsh winning the Novices Cup (best Swiss Cup for Roll) with Conor Cantillon taking the Best Coburg award for his bread loaf.
It was all smiles for Niamh McCarthy as she won the Best Plait (plaited loaf 400g) with her London Bloomer and took the Bronze Medal in the Bakery Students & Confectionary Trophy category with her multi-flavoured and chocolate fondants.
Roxana Szabo won first prize in the 3D Dough Art Display for the second successive year, while she also took third place in the Healthy Eating Innovation Awards.   Roxanne's 3D piece was a house made of dough with the inside decorated with a fireplace, furniture and even crockery.
Meanwhile, Stacey McCarthy won left the ABST with three medals finishing runner-up in the highly competitive British Society of Baking Trophy and third in the Novices Cup and Devon Rose Bowl respectively.
Not to be outdone, Paul O'Brien, Instructor with LYS's Bakery Project finishing third in the Horton Trophy with his London Bloomer- which is a loaf with twelve cuts.
'Simply unbelievable' were the words, Paul, as he reflected on what was a historic and very successful weekend.
'The trainees should be extremely proud as they represented their families, friends, country and themselves with pride,' said Paul.
'They went above and beyond in preparing for this tournament and deserve all the success they get,' added a very proud Paul who thanked his colleagues for all their support.
Supported by Limerick Clare Educational Training Board, the Bakery Project is a located at LYS's Community Training Centre, Limerick City and is an FDQ Level 2 accredited course.
A member of Youth Work Ireland, Limerick Youth Service remains committed to supporting and encouraging young people to be active participants in shaping their futures.
For more on Limerick Youth Service click here 
For more on the Alliance of Bakery Students & Trainees (ABST) click here