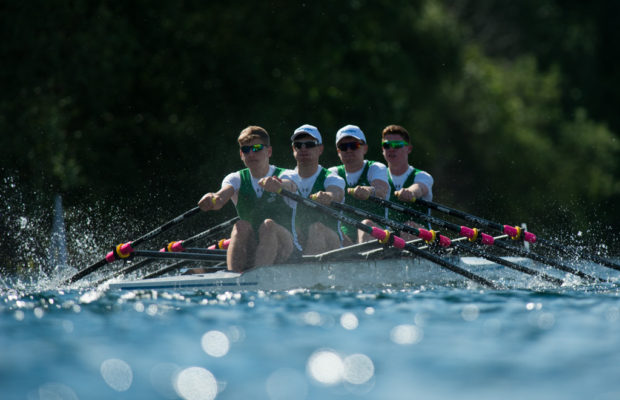 By I Love Limerick Correspondent Jordan Mac Cormaic
Limerick Teen Wins Gold at European Rowing Championship in Belgium – Quinlan and his fellow crew members Barry O'Flynn, Matt Dundon and Jack Keating produced a fantastic performance across both days.
Seventeen-year-old Castleconnell rower James Quinlan was part of the Junior men's quadruple crew that secured two gold medals for Ireland
at the European Rowing Championship in Belgium this week.
The Coupe de la Jeunesse is the European junior tournament for rowers and took place last weekend in Hazewinkel, Belgium.
After the successes of the O'Donovan brothers in Rio, Irish rowing remains on an upward curve with Team Ireland winning three gold medals on the first day of the European Rowing Championship and two gold medals on the second day.
Ireland had just four boats entered, and all four boats got through to A finals on both days, helping Ireland to place third overall in the medal table.
Quinlan and his fellow crew members Barry O'Flynn, Matt Dundon and Jack Keating produced a fantastic performance across both days.
James, who is 17 and a student at Castletroy College, is a member of the Castleconnell Boat Club and said after the final;
"We were behind coming out of the blocks, but maintained composure and trusted in our mid-race speed. This gave us confidence coming into the halfway point. At 1500 metres we were in front by a length."
"The Italians began to push on us and came close, but we were able to hold them off. I was delighted to cross the line as it was my first International medal and it means a lot as we have put in a lot of hard work."
He added: "I would like to thank my club for their support throughout the year, and my coach James Mangan for helping me to become a better athlete every day."
Kenmare's Georgia O'Brien also won gold for Ireland in her singles final. While the Fermoy women's pair of Gill McGirr and Eliza O'Reilly also went on to win two golds, winning their final in convincing fashion ahead of Great Britain.
Speaking after the weekend result Castleconnell Boat Club president Owen Silke said; "We're all delighted for James and all the young athletes that travelled to Belgium. They have worked incredibly hard and it's great that this has paid off.
He continued: "Irish rowing is going from strength to strength, not just in Skibbereen, but in clubs all around the country. We have talented athletes and dedicated coaches here at home."
"We're also lucky to have a great stretch of water in Castleconnell. We have a fine 3km stretch of river between the weir and the bridge which is ideal for training. Not only is it sheltered, it's an absolutely stunning part of the country to train in."
"Castleconnell Boat Club was founded over 30 years ago and is remarkable in its access to one of the finest stretches of water for rowing in the country", he added.