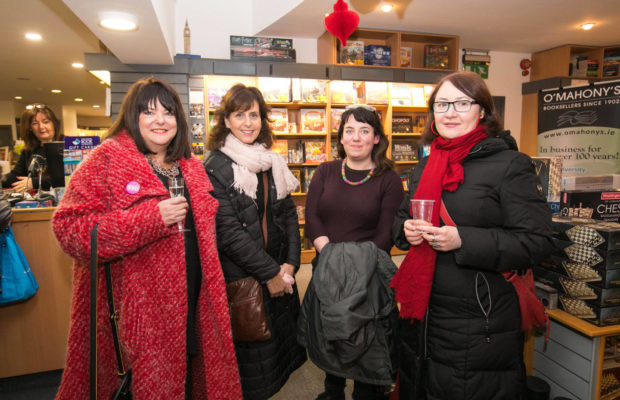 Pictured at the launch of the Limerick Literary Festival 2018 at O Mahonys Booksellers on O Connell Street was Valerie Dolan, Dolans Pub, Carlan Wood, Limerick, Jennifer Moroney Ward, Limerick and Tara Robinson, Limerick. Picture: Oisin McHugh True Media.
Limerick Literary Festival 2018 to take place next February
By ilovelimerick correspondent Frances Watkins
The Limerick Literary Festival 2018 in honour of Kate O'Brien will take place Thursday February 22 until Sunday February 25 2018 for the thirty-fourth annual edition. The event continues to honour the life and works of the Limerick author, whilst attracting prominent participants from all over the world.  It continues to provide a platform where readers can meet their favourite authors and other readers.
The official opening of the Limerick Literary Festival will take place at the Limerick City Gallery of Art and will be launched by Billy Keanen followed by a recital from Martha O'Brien.
Returning events to the festival include the Kate O'Brien lecture and Desert Island books. The festival will include lectures by Kit de Waal, Jana van der Ziel, Fergal Keane, Kevin Barry and Lisa McInerney.
Blindboy Boatclub from The Rubberbandits will also be contributing to the festival and Dolans will be hosting an event called 'The Revolution will not be Spotified' as a part of the festival.
New events at the festival this year include an evening with Stanzas at Chez Le Fab, a graphic novel event at Ormston House as well as workshops from writers Sarah Moore, Dan Mooney and Donal Ryan at Narrative Four.
Kate O'Brien, a world-renowned novelist and playwright, was born in Limerick in 1897. Her novels were some of the earliest examples of Irish literature to feature homosexual themes, which ultimately lead to them being banned on release under the Irish Free State's censorship laws.
Her first novel, Without My Cloak (1931), is a chronicle of middle-class Irish life. Its theme would be constant throughout her novels, namely the struggle (particularly the struggle of Irish women) for individual freedom and love against the constricting demands of family, bourgeois society and Catholic religion. The Ante-Room (1934), Mary Lavelle (1936), Pray for the Wanderer (1938), The Land of Spices (1941), The Last of Summer (1943), O'Brien's most successful novel was That Lady (1946), set in sixteenth-century Spain
More information on the Limerick Literary Festival 2018 can be found at 085-1207416 or www.limerickliteraryfestival.com.
For more stories on the previous Limerick Literary Festivals click here