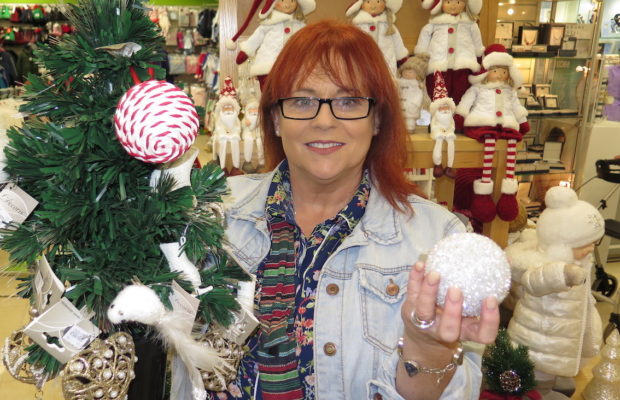 The decorate to donate Christmas campaign organised by member of the public Audrey Ryan, is back in full swing this year to support the work of Novas for Homeless people. Picture: Richard Lynch / ilovelimerick.
By I Love Limerick Correspondent Maxine Bramley 
The decorate to donate campaign is back again this year to support Novas as they fight against homeless this Christmas.
The campaign organised by member of the public Audrey Ryan, who also organises Limericks coat rack for Homeless people, is in its second year running and involves people decorating their Christmas Tree, taking a photo of their finished product, posting it to social media with the hashtag #decoratetodonate, and then texting Novas to the 50300 to donate €4 to Novas to help them continue their services to those who find themselves homeless.
Don't forget to tag NOVAS in your posts to show them all the beautiful trees and use the hashtag #decoratetodonate.
"Last year I started the campaign a few weeks before Christmas and raised €800, that's €800 that really helped. So, this year we're going to start that little bit earlier, I'm hoping for a bigger response and hopefully it will be as big as last year if not bigger," Audrey tells me.
Audrey said that she really cares about the homeless people as she realises homelessness could happen to anyone and the upsetting case of Louise Casey who died alone in the streets of Limerick this time last year really brought it all home for Audrey and made her want to help people living on the streets more than ever.
"The #decoratetodonate campaign is a such a fantastic idea by Audrey and Novas are so grateful to her for organising it," said Una Burns from Novas who has been working very closely with Audrey on the campaign.
"This is the second year of the campaign and we hope to get as many people as possible to #decoratetodonate this year and raise as much money as possible to support Novas frontline services in Limerick," Una tells I Love Limerick.
NOVAS is a non-profit organization based in Limerick, working with single adults, families, and children who are disadvantaged and socially excluded; primarily those who are homeless or at risk of being homeless. They offer bespoke, client-centred services, based on empirical evidence of more than a decade's experience of working with people who are homeless in Ireland. They believe everyone is entitled to a home.
Issues facing NOVAS clients include extreme poverty, mental health issues, substance and alcohol misuse, physical and sexual abuse, family breakdown and poor education. They develop client-centred services to cater for the individual needs of all those availing of their services.
To support the decorate to donate campaign for Novas please upload your Christmas tree photo on social media with the hashtag #decoratetodonate and text Novas to 50300 to donate €4 to this worthy cause.